AMARIS 1050RS – Refractive Surgery Laser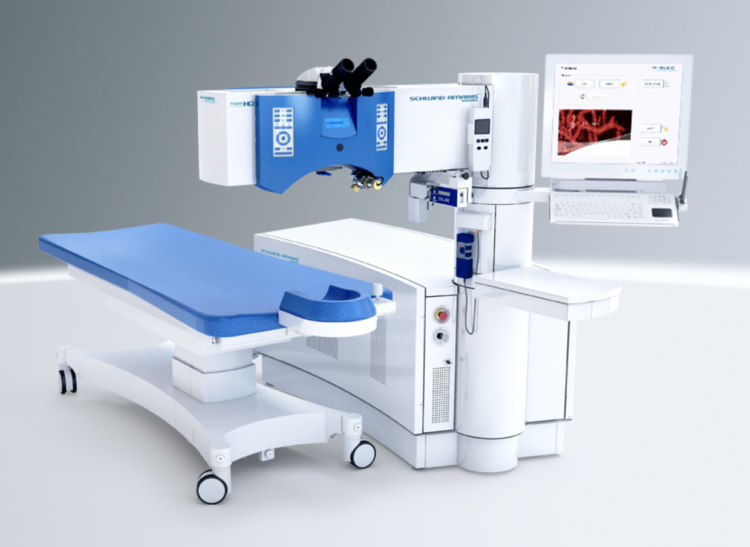 The best excimer laser at EYE DAY CLINIC
The AMARIS 1050RS has a faster operating frequency of 1050Hz and a treatment speed of just 1.3 seconds per diopter! These characteristics results into shorter treatment time, minimization of corneal dehydration and a significant reduction of the time the patient has to focus on the laser light.
Among the top features of the AMARIS 1050RS:
Automatically adjusted tissue removal energy (AFLA – Automatic Fluence Level Adjustment), which achieves perfect corneal smoothing, even at the highest sculpting frequency of 1050Hz.
Intelligent Thermal Control (ITEC) system, which protects the surrounding corneal tissue, even at very high sculpting speeds.
Tracking saccadic eye movements with the security of seven dimensions (7D Eye Tracker).
CAM therapy personalization software platform that offers:
Personalized-customized treatment for each patient, through an easy-to-use environment and a wide range of therapeutic applications.
TransPRK the "No Touch" treatment. Innovative development of conventional therapies LASEK, Epi-LASIK and PRK.
No tools touch the patient's eye! The total treatment time with this method is significantly shorter than any other treatment.
High resolution intraoperative caliper, which ensures greater safety during treatment.
In addition, with its built-in nomogram technology, it allows quick and easy adaptation to use.
This technology helps to improve the productivity and efficiency of the clinic, performing more surgeries in less time, thus maintaining the top reliability and quality of EYE DAY CLINIC services.